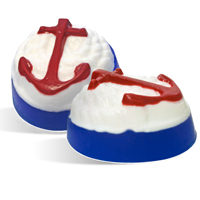 This soap makes a great soap for anyone seeking a nautical theme. It looks fantastic in a themed bathroom. Feel free to get creative by changing the color and fragrance selections on this recipe
MP Soap: Anchor's Away - Americana
Project Level:
Intermediate
Estimated Time:
1 Hour
Yields:
Approx. (3) 4.4 oz Bars
This recipe is also available as an easy-to-make starter kit where you can save $4.23 over buying the ingredients separately!
INCI Ingredient Label:
Propylene Glycol, Sorbitol, Water, Sodium Stearate, Sodium Laureth Sulfate, Sodium Laurate, Glycerin, Triethanolamine, Titanium Dioxide, Fragrance, Ultramarines, Iron Oxides
Ingredients
• 2 Pound(s)
Crafter's Choice Extra Clear MP Soap
• 2 Pound(s)
Crafter's Choice Ultra White MP Soap Base
• 1 Piece(s)
Crafter's Choice Matte Red Soap Color Bar
• 1 Piece(s)
Crafter's Choice Matte Cobalt Blue Soap Color Bar
• 2 Ounce(s)
Crafter's Choice Seaside Escape 651
• 1 Piece(s)
Crafters Choice Nautical Anchor Soap Mold (CC 170)
Equipment
• Cup of Warm Water
• Freezer
• Glass Measuring Cup
• Microwave
•
Plastic Beaker
• Plastic Droppers - 2
•
Scale - Digital
•
Soap Cutter
• Spoon
• Spray Bottle with alcohol(for spritzing)
•
Thermometer - Digital
• Toothpick or Wooden Skewers
Directions
If you are making these products for sale, good manufacturing practices recommend you wear a hairnet, gloves and a mask. We also recommend a clean apron.
Weigh 1 oz. of clear soap and cut up into chunks. Place in plastic beaker.
Remove one red color block from clamshell packaging. Cut into 4 pieces and add one piece to the clear soap chunks.
Place beaker in microwave and heat until soap is melted - approx. 20-25 seconds. Remove and stir until red color block has completely melted in.
Fill a plastic dropper with red soap and carefully fill anchor with soap. Try to fill the top of anchor as full as possible. The bottom area cannot be completely filled but this area will be filled in later.
After filling anchor, try to squeeze out remaining red soap from dropper. Place in a cup of warm water and squeeze water up into dropper. This will keep soap from hardening so dropper can be reused.
When soap has hardened, prop the mold up onto an object so the bottom of the anchor will be as flat as possible so it is easier to fill.
If red soap in beaker has hardened, warm up slightly in microwave. Squeeze out water from dropper and fill dropper with red soap.
Spritz top of red anchor with rubbing alcohol and then fill remaining areas on the bottom of the anchor with red soap. If soap overflows a little, that can be fixed once soap hardens.
Once soap has hardened, turn mold over to see if any soap went out of the anchor outline. If so, take a toothpick or a wooden shisk-ka-bob skewer and carefully remove excess soap from around the anchor.
Place plastic mold in freezer for about 10 minutes. This will get soap ready for the second pour.
While soap is in freezer, weigh 6.5 oz. of white soap and cut up into chunks. Place in glass measuring cup and heat in microwave until melted.
Add 6 ml. of Seaside Escape fragrance oil and gently mix in.
Remove mold from freezer and set on counter. Spritz red soap well with alcohol.
Before pouring white soap, it is very important to check soap temperature. If soap is too hot, the red color will bleed into the white soap.
Temperature for the white soap should be no higher than 120°F. The lower the temperature of the soap the better it is. Even if the soap starts to thicken, it is fine to pour.
Let soap harden completely. Once soap starts to thicken, it can be placed in freezer to speed up the process.
Once soap has been removed from freezer, prepare soap for final layer.
Cut up 9 oz. of clear soap and place in glass measuring cup. Remove 1 cobalt blue cube from clamshell packaging and cut in half. Place 1 half in cup with clear soap.
Heat soap in microwave until melted. Remove and stir until blue color has completely dissolved. Add 9 ml. of fragrance oil and mix well.
Spritz top of white soap well with alcohol. Again, check soap temperature. Pour once soap is below 120°, the lower the better.
After pouring soap to top of mold, spritz with alcohol to dissolve any surface bubbles that may appear. Let soap completely harden. After soap sits for about 10 minutes, it is helpful to place in freezer for about 30-45 minutes. This will make soap easier to remove from plastic mold.
Once soap mold is removed from freezer, let set at room temperature for about 10 minutes. Then, turn upside down and carefully push on cavity to release soap.
If any bleeding has occurred in the white area, this can be gently scraped off with a toothpick or wooden skewer.
The soap is ready to use after unmolding. If you plan to sell your soap, wrap it immediately. Options are plastic wrap, shrink wrap or cello bags. Proper packaging keeps the fragrance strong. Don't forget to label the soap to complete the package. Label according to FDA cosmetic label guidelines.