Goat Milk & Honey Lotion Recipe!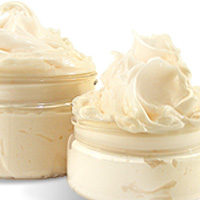 Project Level: Beginner
Estimated Time: 1/2 Hour
Yields: 10-8 oz jars, 5-4oz, 5-2 oz.

Simple lotion kit for beginners or for crafters who need a quick and easy addition to their product line.

Also available as a kit! You Save $28.02 by purchasing this kit rather than buying the items separately.

INCI Ingredient Label: Water, Glyceryl Stearate, Isopropyl Myristate, Caprylic/Capric Glyceride, Stearic Acid, Stearyl Alcohol, Cetearyl Alcohol, Ceteareth 20, Soybean Oil, Shea Butter, Dimethicone, Sunflower Oil, Aloe Barbadensis, Goat Milk Extract, Hydroxypropyl Trimonium Honey, Benzophenone,Methylparaben, Propylparabaen, DMDM Hydantoin, Triethanolamine Disodium EDTA,Fragrance, Propylene Glycol, Benzophenone-4, Tetrasodium EDTA, Yellow 6.

Ingredients
• 1 Gallon(s)

Crafter's Ch

oice Goat Milk & Honey Lotion


• 2 Ounce(s) Crafter's Choice Mayan Gold Fragrance
• 2 Ounce(s) Crafter's Choice Liquid Dye Yellow 6
• 10 Clear Heavy Wall PET Jars - 8 oz.
• 5 Clear Heavy Wall PET Jars - 4 oz.
• 5 Clear Heavy Wall PET Jars - 2 oz.
• 5 58/400 White Straight Lids
• 5 70/400 White Staight Lids
• 10 89/400 White Straight Lids
• 2 Piece(s) Latex Gloves
• 1 Plastic Dropper
Equipment
• Large Glass Bowl
• Large Mixing Spoon or Wooden Paint Stick
• Spatula
Directions
NOTE: If you are making these products for sale, good manufacturing practices recommend you wear a hairnet, gloves and a mask. We also recommend a clean apron.
Carefully remove lid from lotion bucket.
Scoop out about half of lotion and put into a large glass bowl. This is to make it easier to add fragrance and color to the entire bucket.
To the lotion in the bucket add the entire bottle of fragrance oil. Mix well.
Then, add drops of color to reach the shade you want to achieve. Keep in mind this color will lighten when you add the rest of the lotion base back into the bucket.
Begin adding the unscented lotion back into the bucket a little at a time until all the lotion is completely blended.
Your lotion is now ready for packaging or, if you prefer, you can put the lid tightly back on the bucket and save for future use.